Definition:
montage (mon-tähzh') [from French, monter to mount; Fr., a mounting, setting together], noun 1. a) the art or technique of combining elements of two or more pictures imposed upon a single background to give a unified effect; b) a picture so made. 2. any combination of disparate elements that forms or is felt to form a unified whole, single image. verb (used with object) to make or incorporate into a montage.
The Team:
Susanne Vande Vyvere - Partner, Design Director
As Design Director, Susanne possesses 25 years of extensive experience in graphic design and project management. With her "where-there's-a-will-there's-a-way" enthusiasm, Susanne has a proven talent for expediting projects and a dynamic flair for incorporating unique touches. Along with bringing her artistic guidance to every project, Susanne ensures clear communication with clients in order to meet their specific needs while always keeping in mind goals, timelines and budget.

Barry Bonham - Partner, Senior Designer
A certified graphic designer and illustrator with an extraordinary talent to bring any idea to life, Barry consistently delivers engaging and effective artwork. This magic of translating what a client wants into winning visual communications comes from three decades of practicing design combined with a finely tuned ability to understand clients' needs... even when the clients may not be sure themselves.

Glad the Fish - Office Mascot
Approaching half a metre in length, this plecostomus, is no minnow. No need to be frightened though, as this friendly giant will gently eat out of your hand. He keeps an eye on Montage activity, most often appearing motionless in his tank, which he keeps tidy being a bottom feeder. When the vibes are right Glad is capable of amazing acrobatics, like a vertical "pop-a-wheelie".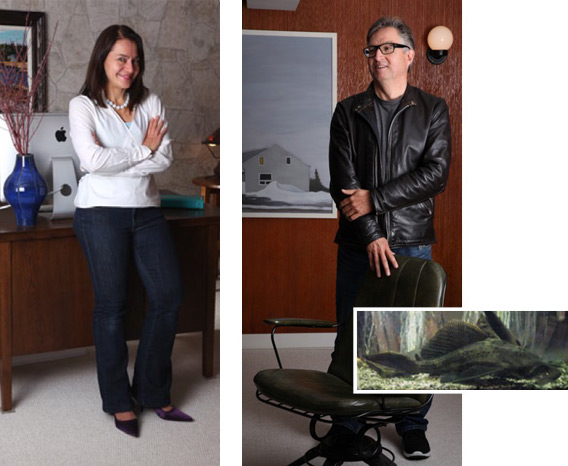 In their off-hours, both Barry and Susanne are gifted en plein air artists with
numerous successful exhibitions and commissions to their credit. They belong to a
group of Manitoba artists called G4,
www.gfour.ca
. Glad sticks to watercolours.